I am so excited to announce the very first "Two Ways Tuesday" on Pretty Little Pursuits. I have such amazingly gorgeous and trendy friends, and it would be very selfish of me not to share them with my sweet readers. Plus, I am sure y'all are tired of seeing me every blog post- so... let's spice it up a bit. Every Tuesday I will be featuring one of my adorable friends on the blog. Each week we will be collaborating together to find that one staple piece in their closet, and then we will dig through both of our closets to find two different ways to style it.
My very first "Two Ways Tuesday" features one of my very best friends, Kathy. She is such a gorgeous person (which you will see in the pictures below) both on the inside and the outside. We decided to style an amazing sequined skirt that she had. Out of all of the different possible ways you can wear this skirt, we decided to go with "The Office" and "Happy Hour" look. She is such a busy little thing- running from meeting to meeting throughout the day, and when she is finally off of work she is rushing to meet us girls. It was definitely a no brainer, which two looks we would do.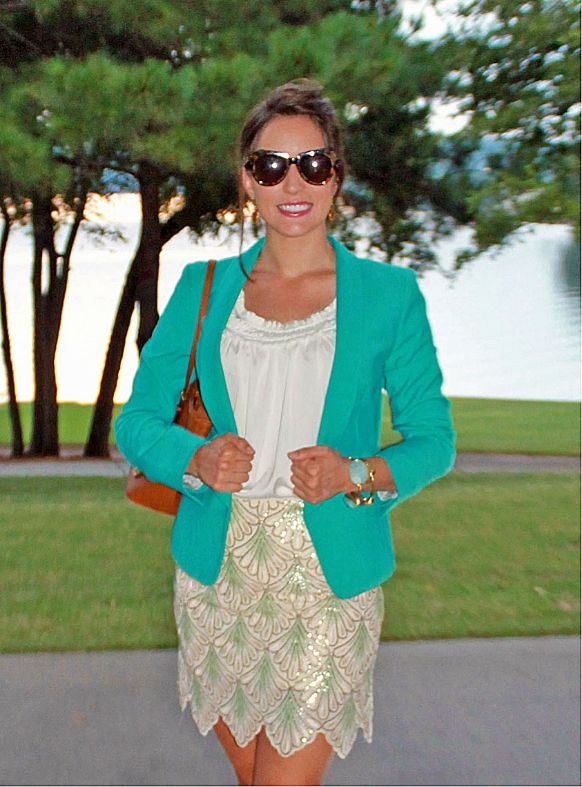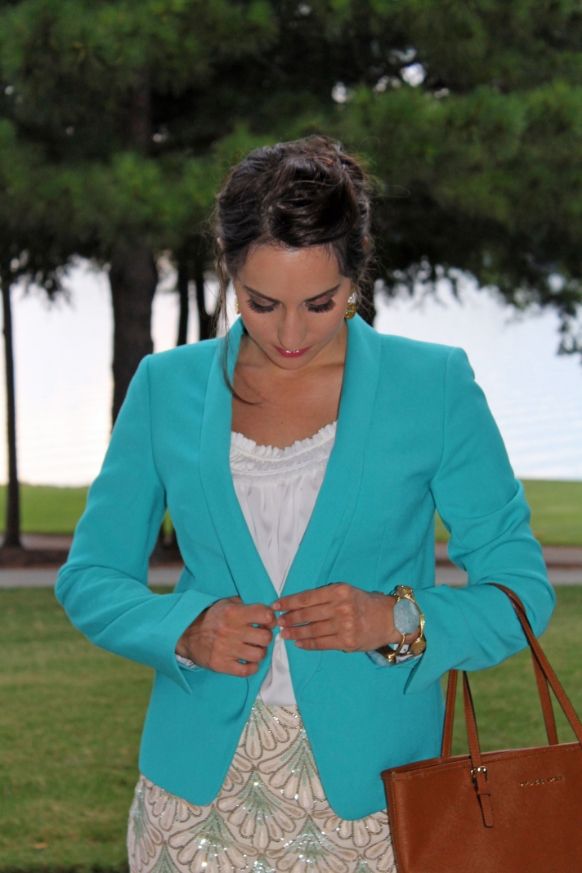 (Bragging Note: I love styling Kathy's hair! I would never be able to
get my own hair to do this. And it seriously took about 5 minutes to do!)
Happy Hour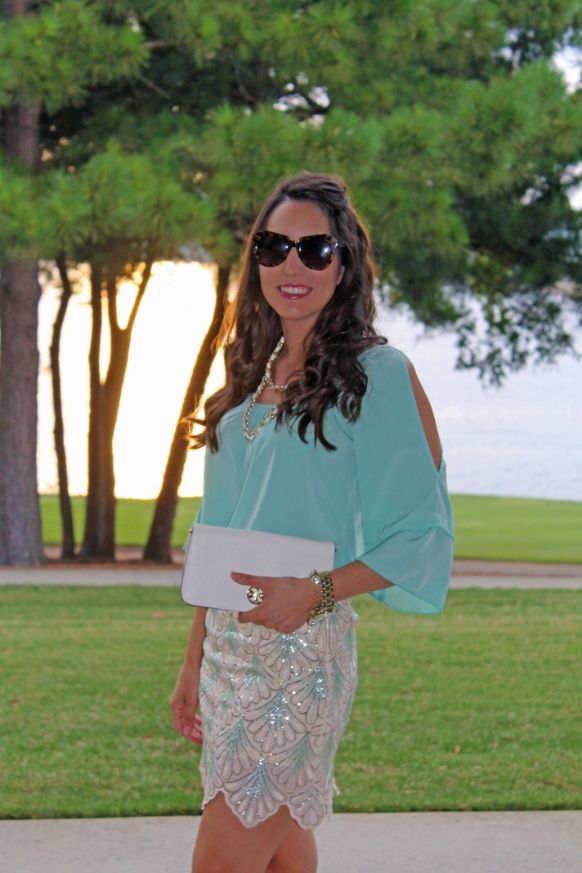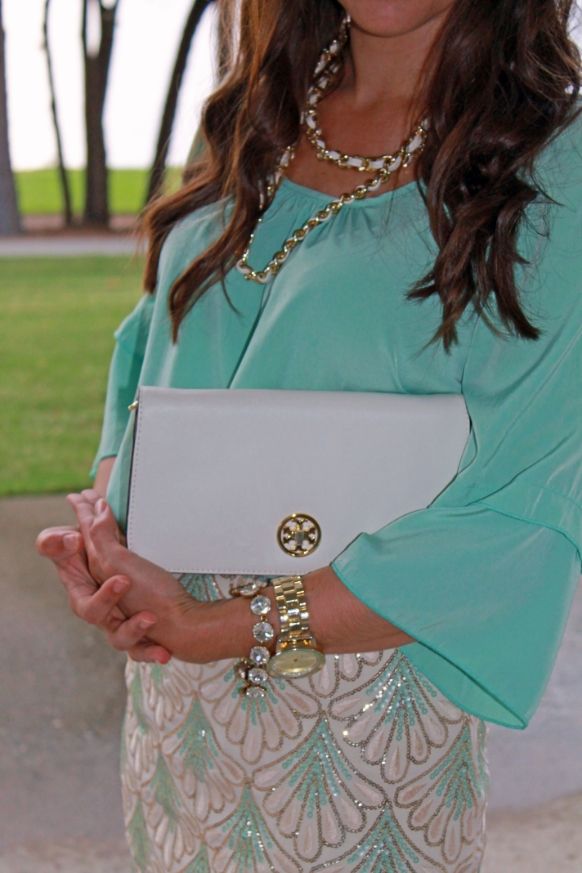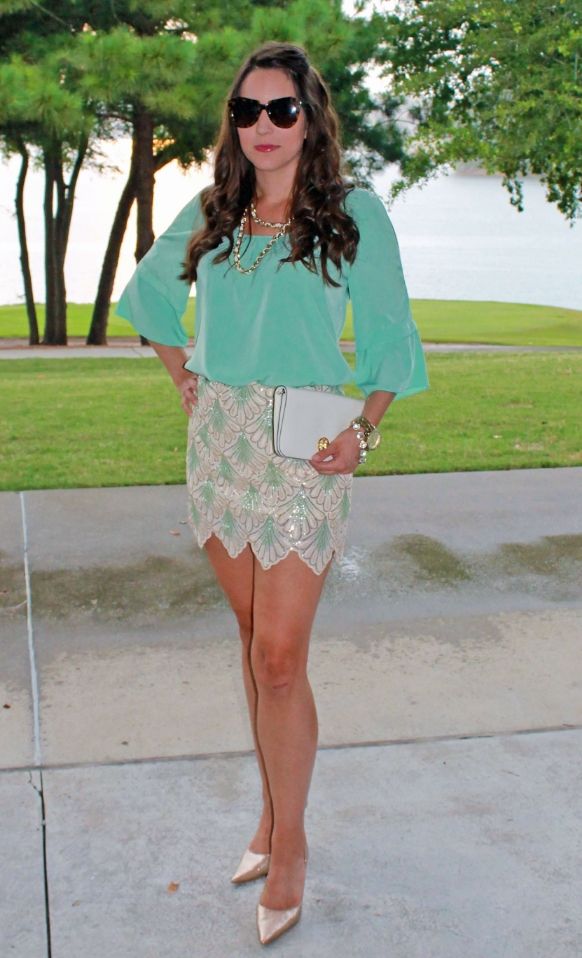 SKIRT STYLED TWO WAYS: Similar, Precious, Love
The Office Look- BLAZER: Old, Adorable, Cute, Save SHOES: Save, Jessica Simpson EARRINGS: Tory Burch BRACELETS: H.M. Willow BAG: Michael Kors
SUNGLASSES: Karen Walker
Happy Hour Look- BLOUSE: Lovely, Adore CLUTCH: Tory Burch SHOES: Nine West (Similar, Kate Spade) WATCH: Charming Charlie BRACELET: Stella&Dot SUNGLASSES: Karen Walker
NECKLACE: So in love with the chain to the Tory Burch bag.. I got creative! :)
(similar, love, splurge)
Transitioning this skirt from the workplace to a night out was very simple! Take the blazer away, switch out some accessories, wear the skirt placed higher on the waist, and throw the hair down!
What is your favorite from "The Office" to "Happy Hour" look?
Ps. Isn't Kath just gorgeous?!
Leave some love for her in the comment section below!
Also, linking up here for the Trend Spin-Florals.
xo,