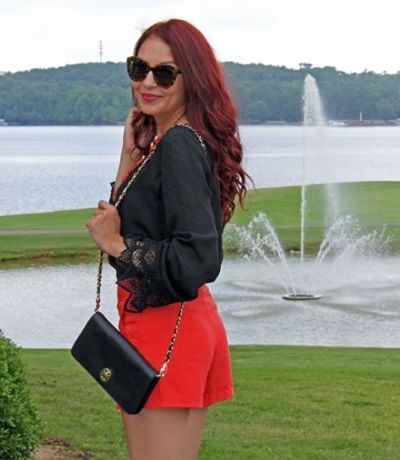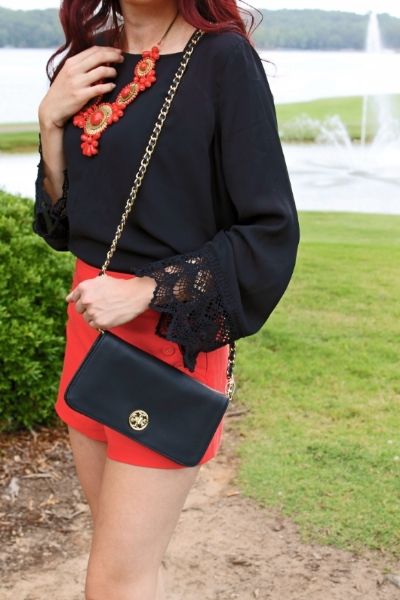 BLOUSE: San Joy Old, On Sale, Similar, SHORTS: Alythea, Cute, Love, Similar,
BAG: Tory Burch SHOES: Target Old, IN LOVE, Similar, Precious NECKLACE: Medallion Bib
I love to make bold statements and take risks with my clothing and accessory choices. But.. there is one trend that absolutely makes me nervous, HIGH WAISTED SHORTS. If done correctly, they can be absolutely stunning, but if done wrong it can be very scary! I can't even tell you how many pairs of high waisted shorts I have tried on and then wanted to BURN! I still can't bring myself to wear the jean high waisted shorts. Don't get me wrong, they look amazing on SOME girls. I am just definitely not one of them!
After trying on several pairs, I came up with a guide to picking out the perfect high waisted short.
1. Keep Them Comfy
Choose shorts that will fit snug on the smaller part of your waist or above your hip bone, but not on the thighs! Overly tight high waisted shorts will tend to rise and be super uncomfortable. Not to mention giving you a very unwanted look. Camels in this case are not cute ladies...
2. Be Creative
Go all the way and be creative with your top and accessories. Lately, I have been loving the crop top with the high waisted shorts. They just make sense together! You could also tuck in a tight tank, throw on a blazer, or mix it up with bold fabrics and florals. Whatever you do, don't cover them up- tuck that shirt in!
3. Be Bold
Wearing high waisted shorts shows you are confident and enjoy making a statement with your clothing. How ever you decide to style them just be confident and rock them! Chances are if you feel good in them, you will look good in them!
What are your thoughts? Are you getting waisted?
xo,